Thai Smile: The Pride of Thailand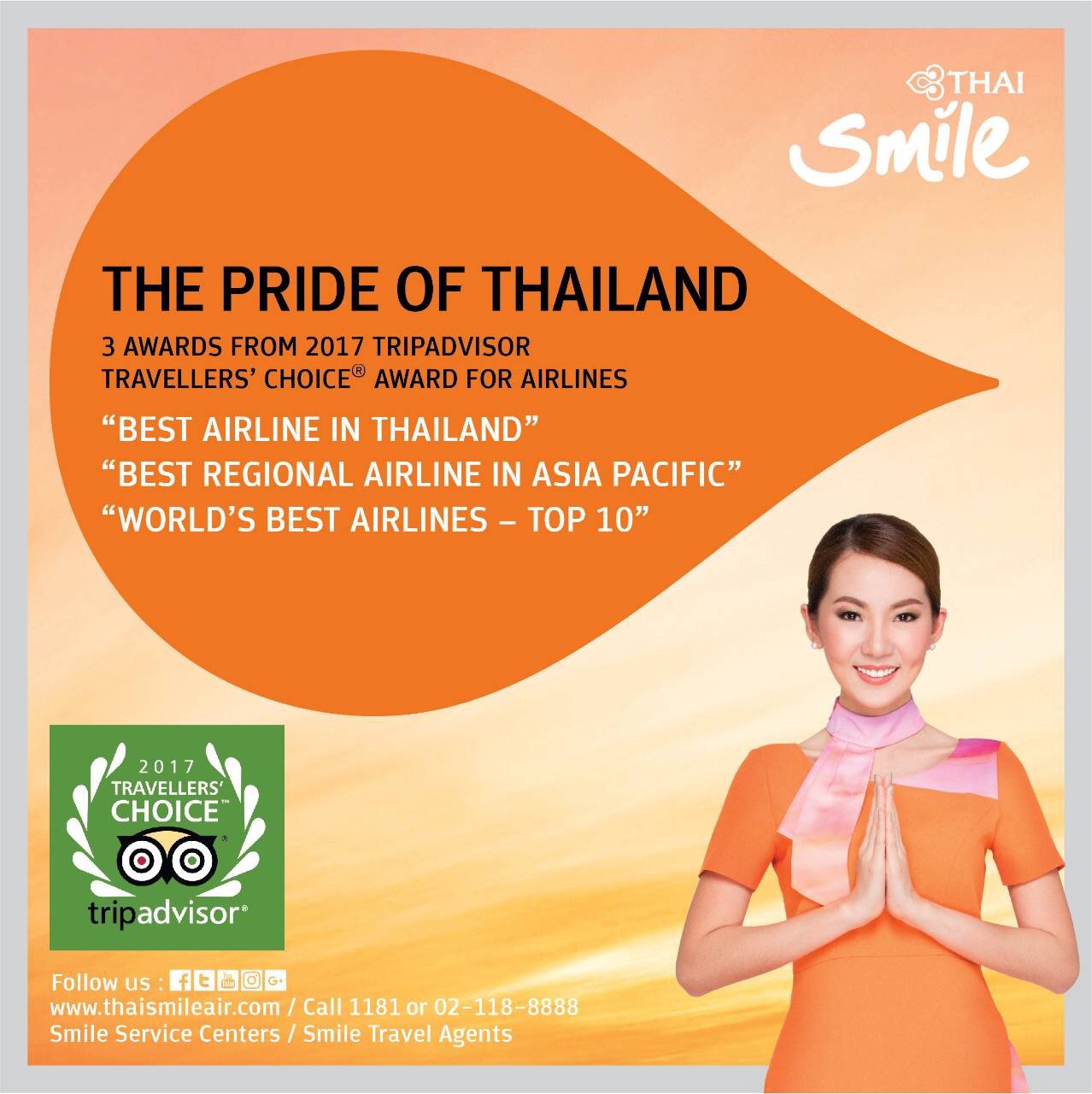 Courtesy: Thai Smile Airways
THAI Smile Wins 3 Awards According to 2017 TripAdvisor Travellers' Choice® Awards for Airlines • Best Airline in Thailand • Best Regional Airline in Asia Pacific • One of the World's Best Airlines – Top 10
THAI Smile Airways brings fame to Thailand by winning 3 awards: Best Airline in Thailand, Best Regional Airline in Asia Pacific and One of the World's Best Airlines – Top 10 according to TripAdvisor Travellers' Choice® Awards for Airlines.
These wins have shown that our services have made us one of the leading airlines in Asia as we aim to continue to improve our world-class standing to meet travellers' needs and widen their horizons by opening new routes. We will continue to devote ourselves to our passengers' satisfaction.
Captain Woranate Laprabang, Acting CEO of THAI Smile, said: "We really are delighted to have won Best Airline in Thailand, Best Regional Airline in Asia Pacific Awards and to have been ranked as one of the World's Best Airlines – Top 10 according to TripAdvisor Travellers' Choice® Awards, this year.
"Our victory this year demonstrates our commitment and the dedication of all THAI Smile employees that make us so confident that THAI Smile is ready to become a regional player. Our dedicated service is at the heart of our core values and commitment to deliver the best experience to our customers at every touch point. Moreover, this award also reflects our effort to deliver superior travel experiences to our customers on every THAI Smile flight."
Captain Woranate further added: "As a representative of THAI Smile's Management Team and employees, I would like to thank every passenger for their reviews and assure you that the THAI Smile staff is dedicated to continue to maintain our standard and offer the best service in order to become the leading airline in Asia, a goal we hope to fulfill in the near future."
Travellers' Choice Award winners were determined using an algorithm that took into account the quantity and quality of airline reviews and ratings submitted by TripAdvisor travellers worldwide, over a 12-month period. The hallmarks of Travellers' Choice award winners are outstanding service, quality and value.
About THAI Smile Airways
THAI Smile Airways, a subsidiary airline of THAI Airways International Public Company Limited (THAI), is a regional airline operator for short and medium range flights. The airline operates using "WE" as an airline code and aims to become a favorite airline with the Heart of Thai in Asia. Unlike other carriers, THAI Smile is a 'Full Service" airline being Regional Wings of THAI Airways. We provide excellence and quality services to meet the needs of short-haul travelers with an affordable price, while ensuring greatest comfort and convenience for a superior travel experience. The airline fleet consists of 20 aircrafts in 2016 and operates using narrow-body fleet with operation bases located at Suvarnabhumi International Airport. Products and services of THAI Smile are suitable for passengers travelling short distances. The airline has adjusted several dimension of its strategy to serve travelers with a tagine: Fly Smart, Fly THAI Smile.
At present, THAI Smile Airways operates in 10 domestic destinations: Chiang Mai, Phuket, Khon Kaen, Chiang Rai, Hat Yai, Ubon Ratchathani, Udon Thani, Surat Thani, Narathiwat, and Krabi with one interline flight between Chiang Mai and Phuket. For international routes, THAI Smile also operates 13 international flights to Siem Reap, Penang, Changsha, Chongqing, Zhengzhou, Gaya, Varanasi, Jaipur, Lucknow, Yangon, Kota Kinabalu, Phnom Penh and Chittagong with a plan to further increase the flight frequency of domestic and launch new international routes.
To find out more visit: https://www.thaismileair.com/en/