THAILAND'S COUNTRY ECONOMIC PROFILE
Thailand: Rising Above the Challenge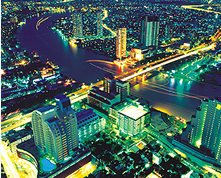 In 2010, the Thai economy recovered spectacularly from the global economic crisis that caused the Thai economy to contract in the first half of 2009. The government's vigorous fiscal stimulus programmes have produced their intended effect, resulting in 7% GDP growth rate in 2010, sharply reversing the downturn of -2.3% in 2009. With the country's major export partners recovering, the economy is expected to perform well in 2011.
Strong Fundamentals
The Thai economy remains in a good position to cope with the dual shocks of the global economic crisis and domestic political issues. With lessons learned from the financial crisis of 1997, Thailand's economy had emerged stronger in its wake. At the end of 2010, the country's current account registered a large surplus, while international reserves were a healthy equivalent of over 8 months of imports. The Thai currency was floating in a stable range and inflation was under control. These show that Thailand's economy continues to be healthy and well-equipped to withstand external shocks.

Thailand is a free-market economy, based on private sector firms serving a strong domestic market with a growing middle class, and producing goods for export in a variety of sectors. Main drivers of the Thai economy are its industrial sector, the agricultural sector and a robust services sector centred on the tourism and financial services industries. Over the past several decades, Thailand has successfully followed a model of export-led growth. In US dollar terms, between 1970 and 2009, total Thai exports grew by an average of 20 percent per annum.
Trading Hub
Not only is Thailand's economy heavily focused on export volume, but it has also been a leader in Southeast Asia in terms of trade facilitation with the rest of the world, starting with its Asian neighbours. Thailand is a linchpin of the ASEAN economies, enjoying a strategic location that provides access to a greater market of 570 million people. The country's geographical advantage and strong relationship with major markets promote sustainable growth in the region. Exports of Thai products to new emerging markets rose 23 percent in 2008 to USD 56 billion, with China accounting for USD 15 billion, a nine percent increase from the previous year. In the same year, products exported to India jumped 28 percent and shipments to Cambodia, Lao PDR and Vietnam surged 40 percent.

Thailand's strategic positioning has made the country a regional centre for international travel and trade, as well as a hub for various industries, of which the most notable is the automotive industry. As a committed member of the Association of Southeast Asian Nations (ASEAN), Thailand helps forge greater cooperation between ASEAN member states and other economies including India, China, Japan, Australia, New Zealand, and the Republic of Korea. Looking beyond its immediate neighbours, Thailand has signed free trade agreements with China, Japan, Australia and New Zealand, and has reached agreement on free trade of 82 Early Harvest items with India.

Moving Ahead
Since the 1997 financial crisis, the financial system of Thailand has been restructured, with 12 local banks, a number of branches of foreign banks, and a large number of foreign bank representative offices. In June 2009, the International Monetary Fund issued a report which noted the strength of Thai financial institutions and the nation's macroeconomic policy. Risk management of Thai banks remains strong, and even during the global financial crisis, the quality of bank assets has not suffered.

Like China and the United States, the Thai government has moved swiftly to counter the external shocks of the global economic crisis. The government has launched two large-scale stimulus packages, which have, on the one hand, alleviated the plight of the poorer members of Thai society during the financial crisis, and on the other hand, launched major public investment spending.

The government also recognises its crucial role in providing certainty, rules and governance so as to facilitate business undertakings, as well as in enhancing Thailand's competitiveness through enlarging the pool of quality work force and improving the ability to use, receive and absorb the transfer of new technology. Prime Minister Abhisit Vejjajiva has reiterated the importance of greater accountability and transparency to reassure investors and the business community. Laws will be reviewed and improved to ensure further liberalisation and facilitation.

In the long term, the Prime Minister is pledging to promote stable economic growth through the coordination of fiscal and monetary policy, thus creating balance between the rate of economic growth, price stability and employment. Moreover, the new government intends to strengthen the country's capital market and financial system so that, in the future, it will be better able to cope with global financial volatility and provide stable
support to both individuals and businesses.

For more information, please visit: