Future of AI Industries in India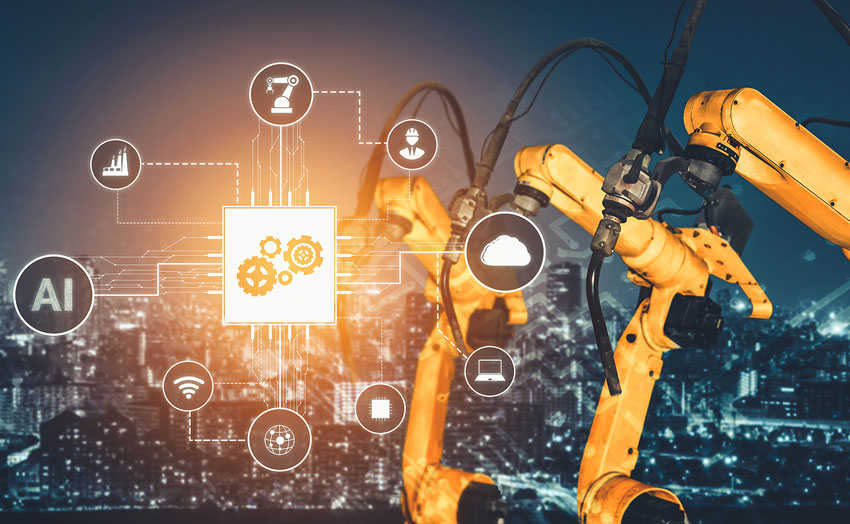 Keywords: AI industry, India, AI, market, opportunity, challenges, Thailand
Artificial Intelligence (AI) refers to the replication of human intelligence processes by machines. The specific applications belonging to AI include machine vision, natural language processing, speech recognition and expert systems. AI refers to the ability of machines to carry out cognitive functions that are associated with the human mind like learning, reasoning and perceiving (Hancock 2020, 89-100). AI today is a transformative force that has rapidly evolved in the different spheres of the world. AI has its influence extending across various industries, it has revolutionized the way we live, work, and interact. It has its influence from finance to healthcare to entertainment as well as education. Traditional practices are being replaced by AI. In this scenario, AI is rapidly transforming the way companies do business, along with it is also having a considerable impact on the economy of India (Hwang et al 2020, 100082). AI is more prominently being used all across the industries in India. From manufacturing to farming and from health care to banking, AI is being used in almost every field. AI has become more prominent in the post-pandemic time as there is a larger drive to adapt to artificial intelligence.
In India, the overall demand for artificial industry in different business domains has been escalating at a rapid rate. Hence, various technological companies have been showing their inclination towards providing AI-oriented products and services to clients.
A detailed study of AI and the Indian market
AI has been the new craze that has influenced the Indian market a lot, from healthcare to education to business AI is prominent in every sphere of the industry. In the healthcare industry, the use of AI is seeing growth. As per the World Economic Forum report, it is expected that India shall reach $11.78 billion by 2025, and by 2035 it shall add $1 trillion to the economy of India (Sun, 2023). AI in India is dominating in every sector and business is no exception. The businesses of India are fast catching up with the implementation of artificial intelligence. According to Malali et al (2020, 55-60), it was witnessed in a recent survey that more than half of the top thousand Indian companies are going beyond the test and pilot projects and thereby adopting AI more rapidly. As India is going through a rapid transformation in the digital arena, the intelligence and data centres behind the data collected will let the industry and governments make decisions that are effective with the help of algorithms. According to Kumar et al (2021, 1-24), Indian businesses are utilizing AI to improve the customer experience, innovate new products as well as services, and more importantly transform the businesses. According to Erem Ceylan et al (2022, 225-241), the Indian insurance and banking industries too are quite flexible in adopting the AI. They have deployed sophisticated AI engines to acquire new customers; they are also using AI for fraud detection and robust risk management. AI is further utilized to meet any unforeseen happenings in the financial set up. Along with the other parts of the world in India too AI is reshaping the systems of education thereby leading to a revolution in education also known as the education 4.0. This process shall transform the educators, students, and also the career counselors and recruiters and the way they learn and live in the educational sphere.
Opportunities of AI industry in India
As mentioned earlier, artificial intelligence is a technology that is emerging, and it has the ability to change the way the world interacts. According to Alam et al (2020, 5077-5094) it has to be said that in India the scope of artificial intelligence is still in the stage of adoption. Slowly and steadily, AI is being used to search for smart solutions to problems in most of the major sectors like health, cyber security, education, manufacturing, transport and business etc. According to Majid et al (2022, 281-292) there are immense opportunities for AI in India. India is a budding market and therefore the AI has a growing opportunity in the Indian market. In sectors such as health care systems the implementation of the AI can be groundbreaking. It can change and reshape the process in which treatment is done. It can change the way the health care system treats, monitors and diagnoses patients. Apart from that in the business sector, AI is emerging as an important aspect. According to Sharma et al (2022, 287-297)) India is a budding business arena in the world and on the same coin artificial intelligence has a vast range of uses in business. In the fiscal year of 2030, it is expected that the growth of AI market in India will be 100 billion U.S. dollars (Thormundsson, 2023).
India has a population that is huge and data that is abundant and for this reason it will present a fertile ground for the application and development of AI. According to Ortiz et al (2022, 497)) on the basis of this fact India's government has started to invest heavily in building AI skills and capabilities. In the coming years it is inevitable that AI is going to become an important factor that significantly contributes to the development and growth of India. Hence, it seems that the future of AI in India is resourceful. It is a fact that along with the help of strong strategies and proper policy support India can be a strong player regarding AI on the global stage.
Support and cooperation of Thailand to enhance AI industry market in India
India and Thailand in the Andaman Sea share a maritime boundary and they are situated in each other's extended neighborhood. The bilateral relations of India and Thailand are very old and are rooted to history. With growing trade and investment, regular political exchanges in the last two decades India's ties with this country have been strengthened into a comprehensive partnership. Thailand is the fourth largest destination of trading as far as India is concerned in the ASEAN region. India provides this country with huge scope for investments in the infrastructure that includes ports, roads, food processing, power sector, renewable energy electric vehicles, logistics and more importantly digital technology. Artificial intelligence is an emerging field that is rapidly transforming the different sectors of India. According to Alam et al (2020, 5077-5094) India as a country is giving a tremendous amount of importance to the development of Artificial intelligence. AI as a factor has the ability to strengthen the Indian economy by improving its creating opportunities, reducing costs and productivity in order to promote growth and innovation. Artificial Intelligence is an emerging factor in the world and the governments of all the countries are aware of it. Thailand too is delving to draw gains from this aspect; they are investing in the field of AI. The AI strategy of Thailand mainly aimed to improve the country's economic position and also the lives of its people. Thailand. Over the years Thailand has gained considerable expertise in the field of AI. They have created an essential grasp over AI by investing and conducting studies. A considerable amount of investment was made by the government of Thailand. The Indian government is taking this opportunity to share the findings of Thailand on AI. There has been a huge amount of research and study on Thailand's part and there has been a considerable number of findings too. India is seeking support from the country to improve its expertise in AI.
Potential Challenges of AI industry in India
The implementation of AI would inevitably bring a lot of advantages for India as a country. It shall nevertheless contribute to fields like agriculture, business, healthcare, transports, renewable energies, education etc. According to Jaiswal et al (2021, 142-158) artificial intelligence shall reduce the possibility of human errors in the work, it shall also reduce the risks of conducting a work. But there are many potential challenges that this industry would face before being implemented by the market of India. One of the major challenges that the AI industry would face is data security and privacy issues. AI solutions are based on a vast volume of confidential data that is often personal and sensitive in nature. Although AI brings automation, it also brings vulnerabilities in the field of privacy and security. This can affect the cyber security of any company. Another challenge that India shall face regarding AI is that of limited expertise. Although India has a huge number of laborers, it lacks skilled laborers. AI on the other hand needs highly skilled and trained professionals. In this context skilled professionals are also fewer since it is an emerging technology. The AI arena is basically talent based; it shall need a large pool of talent in order to operate it, that is why it is posed as a challenge for the AI industry. Another potential challenge of the AI industry in the context of India is lack of investment. AI is a field that needs a huge amount of investment in the initial stages. For that reason, high implementation costs stop the various organizations from adopting it. Another potential challenge in India is lack of cloud computing and AI infrastructures, this shall create a challenge to implement the AI. A huge amount of data is needed for the operation of AI. For this, cloud can be the only solution, this in turn makes both the AI and cloud computing inseparable.
CONCLUSION
This article focuses on the future of the AI industry in India. AI is a newly evolving technology that has affected almost every industrial sector from healthcare to education and from business to entertainment. This article begins with a brief introduction to AI and its influence on the Indian market. Secondly, the objectives of the study are stated, and after that, a brief study is done on various aspects of the subject. At the beginning a detailed study of AI and the Indian market is done, after that the opportunities of the AI industry in India are discussed. Further cooperation and support of countries like Thailand in enhancing the AI industry of India is assessed. Lastly, this study assesses the potential challenges that the AI industry is facing while working in India.
REFERENCE LIST
Alam, Ashraf. "Possibilities and challenges of compounding artificial intelligence in India's educational landscape." Alam, A. (2020). Possibilities and Challenges of Compounding Artificial Intelligence in India's Educational Landscape. International Journal of Advanced Science and Technology 29, no. 5 (2020): 5077-5094.
Chatterjee, Sheshadri. "AI strategy of India: policy framework, adoption challenges and actions for government." Transforming Government: People, Process and Policy 14, no. 5 (2020): 757-775.
Erem Ceylan, Işıl. "The Effects of Artificial Intelligence on the Insurance Sector: Emergence, Applications, Challenges, and Opportunities." The Impact of Artificial Intelligence on Governance, Economics and Finance, Volume 2 (2022): 225-241.
Hammer, Anita, and Suparna Karmakar. "Automation, AI and the future of work in India." Employee Relations: The International Journal 43, no. 6 (2021): 1327-1341.
Hancock, Jeffrey T., Mor Naaman, and Karen Levy. "AI-mediated communication: Definition, research agenda, and ethical considerations." Journal of Computer-Mediated Communication 25, no. 1 (2020): 89-100.
Hwang, Gwo-Jen, and Shu-Yun Chien. "Definition, roles, and potential research issues of the metaverse in education: An artificial intelligence perspective." Computers and Education: Artificial Intelligence 3 (2022): 100082.
Jaiswal, Akanksha, and C. Joe Arun. "Potential of Artificial Intelligence for Transformation of the Education System in India." International Journal of Education and Development using Information and Communication Technology 17, no. 1 (2021): 142-158.
Kumar, Pradeep, Yogesh K. Dwivedi, and Ambuj Anand. "Responsible artificial intelligence (AI) for value formation and market performance in healthcare: The mediating role of patient's cognitive engagement." Information Systems Frontiers (2021): 1-24.
Majid, Ishfaq, and Y. Vijaya Lakshmi. "An Analysis of Artificial Intelligence Initiatives and Programmes in India." Convergence of Deep Learning and Artificial Intelligence in Internet of Things (2022): 281-292.
Malali, Anil B., and S. Gopalakrishnan. "Application of artificial intelligence and its powered technologies in the Indian banking and financial industry: An overview." IOSR Journal of Humanities and Social Science 25, no. 4 (2020): 55-60.
Ortiz, Anthony, Dhaval Negandhi, Sagar R. Mysorekar, Shivaprakash K. Nagaraju, Joseph Kiesecker, Caleb Robinson, Priyal Bhatia et al. "An artificial intelligence dataset for solar energy locations in India." Scientific Data 9, no. 1 (2022): 497.
Alam, Ashraf. "Possibilities and challenges of compounding artificial intelligence in India's educational landscape." Alam, A. (2020). Possibilities and Challenges of Compounding Artificial Intelligence in India's Educational Landscape. International Journal of Advanced Science and Technology 29, no. 5 (2020): 5077-5094.
Ruggiano, Nicole, and Tam E. Perry. "Conducting secondary analysis of qualitative data: Should we, can we, and how?" Qualitative Social Work 18, no. 1 (2019): 81-97.
Sharma, Vimal, and Deepak Sood. "The role of artificial intelligence in the insurance industry of India." In Big data analytics in the insurance market, pp. 287-297. Emerald Publishing Limited, 2022.
Sun. S., Number of generative AI startups in India 2021-2023 (2023). https://www.statista.com/statistics/1395589/india-number-of-generative-ai-startups/#:~:text=As%20of%20May%202023%2C%20there,double%20the%20number%20in%202021
Thormundsson, B, 2023. Global artificial intelligence market size 2021-2030 (2023) https://www.statista.com/statistics/1365145/artificial-intelligence-market-size/
" Written By Ms. Ngawang Gamtso Hardy"
Economic Analyst, Deputy Editor-in-Chief
Royal Thai Embassy