India-Thailand: A Special Talk by H.E. Chutintorn Gongsakdi, Ambassador of Thailand to India
As part of Federation of Indian Chambers of Commerce and Industry's (FICCI) ongoing strategy on 'Economic Diplomacy', a Special Series of Industry Talk was delivered by H.E. Chutintorn Gongsakdi, Ambassador of Thailand to India on Friday, May 3, 2019 at 1000 hrs at Federation House (Council Room), Tansen Marg, New Delhi. The Special Talk was attended by senior industry members and participants from various organizations including Allanasons Private Limited, Ashok Leyland Ltd, Bharat Forge, Escorts Limited, Kalpataru Power Transmission Ltd, KPMG, Oyo Rooms, Tata Consultancy Services, The Startup Board, Yatra, and Yes Bank.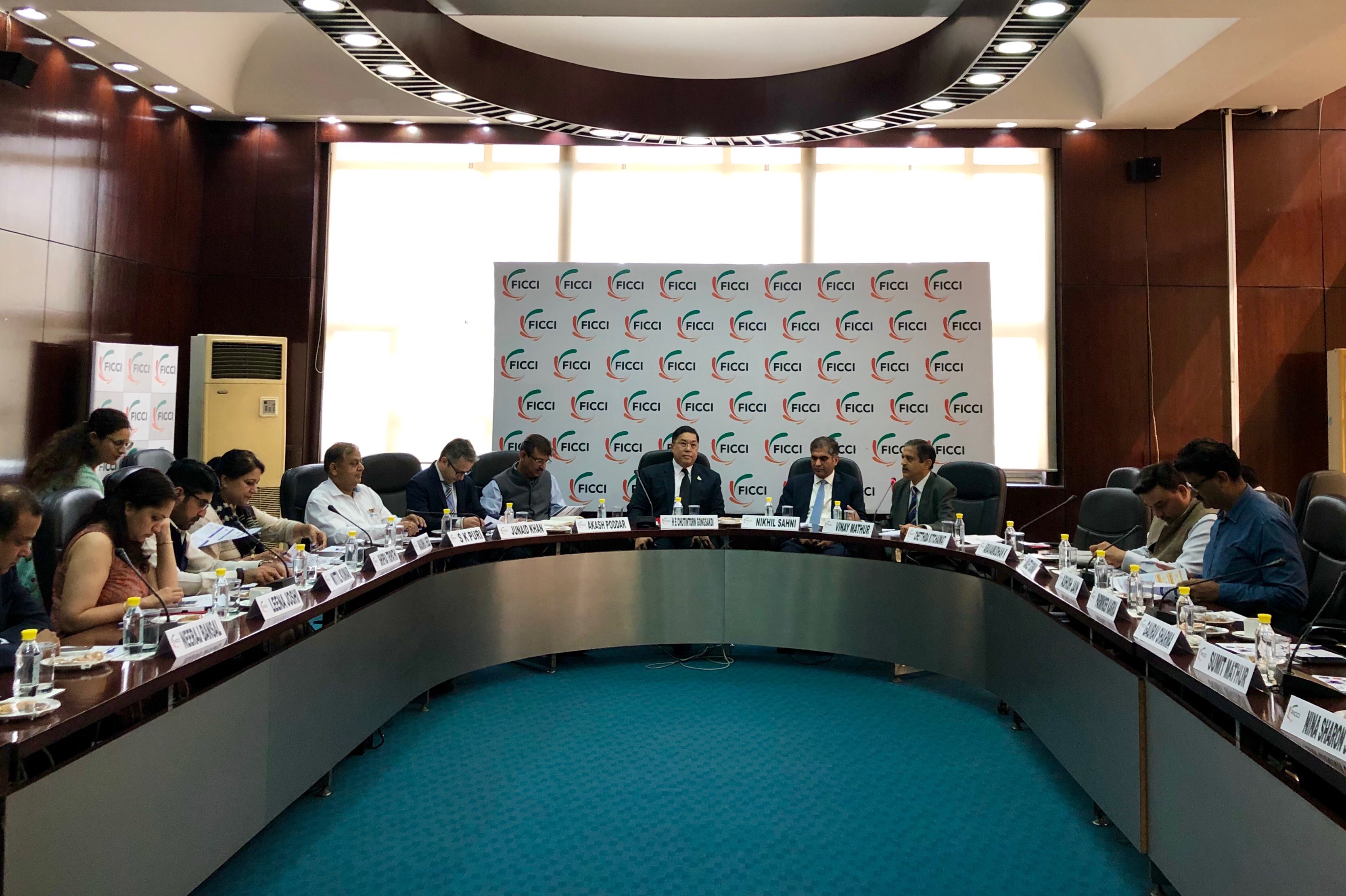 Association of Southeast Asian Nations (ASEAN) remains a vital focus region for India and it acts as an anchor and key pillar for India's Act East Policy. India shares strong bilateral relationship with each member of ASEAN. India and Thailand shares strong bilateral relations based on a robust foundation of cultural and people-to-people connectivity. Trade relations between India and Thailand stands at around USD 12.46 billion. As of 2019, about 32 Thai companies have registered in India with an investment estimated at USD 1 billion, while Indian investment in Thailand is estimated at USD 750 million. (List of Thai companies in India can be accessed here: https://www.thaiindia.net/2014-12-25-12-33-02/companies-thailand-in-india.html).
In his stimulating presentation, Ambassador Gongsakdi talked about Doing Business with Thailand. He said "Thailand needs India" and urged the industry participants to "do business with Thai companies in India" and also to "go into ASEAN and do business."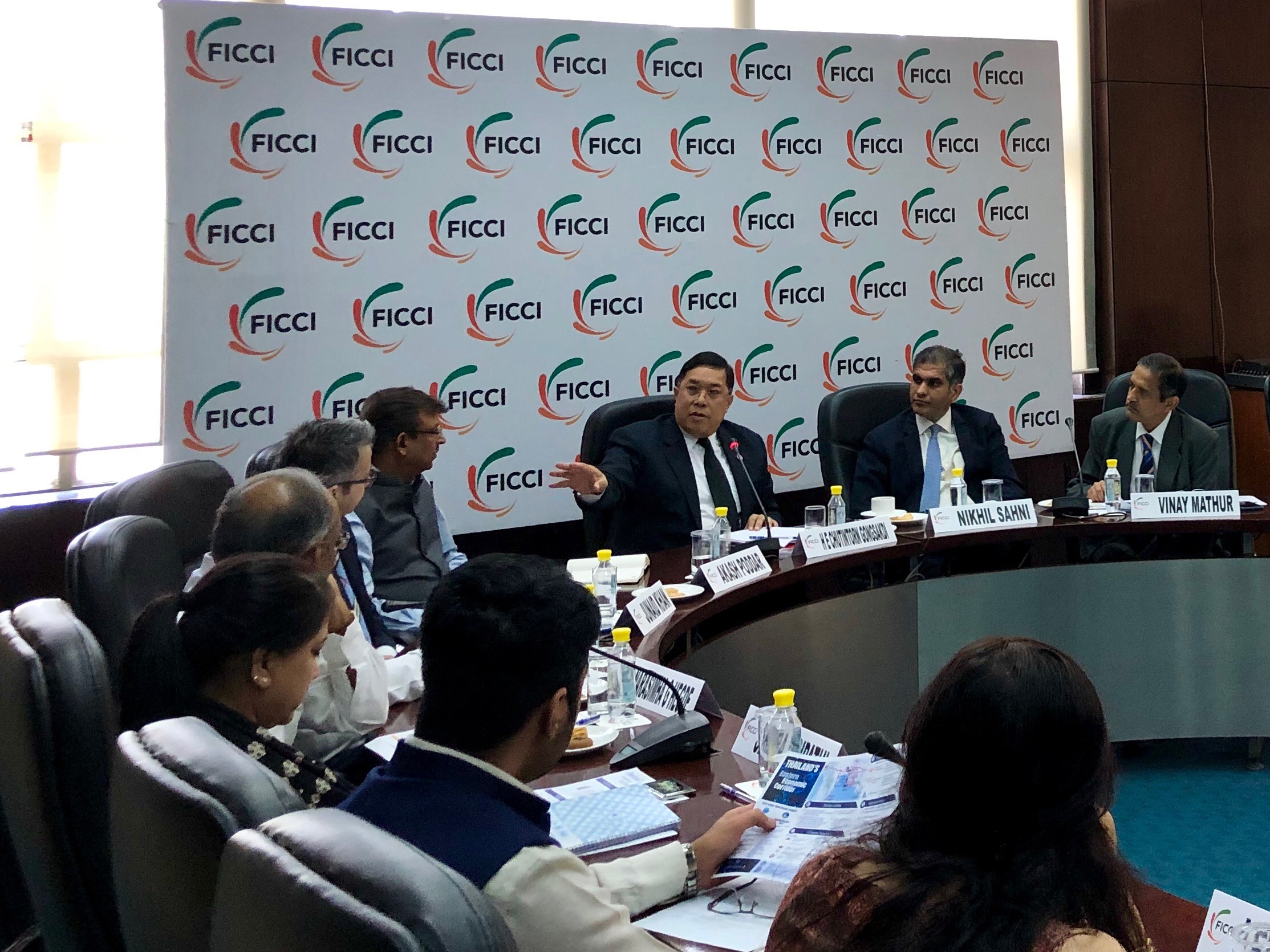 Thailand's investment for future, the Eastern Economic Corridor (EEC), is designed to be a large modern economic hub and is home to twelve modern target industries identified as the 'New Engine of Growth' in line with the "Thailand 4.0" policy. The EEC offers immense competitive advantages for investors. Foreign investors from China, Japan, EU, Hong Kong, Singapore, and USA have either expressed interest or have undertaken investment in the EEC. However, no Indian company has undertaken investment in the EEC yet. India can collaborate with Thailand in the EEC and be reassured of the benefits of capitalising on the opportunities afforded by the EEC. Ambassador said "Invest in ASEAN, consider Thailand."(The details of the EEC is available here: http://www.eeco.or.th ).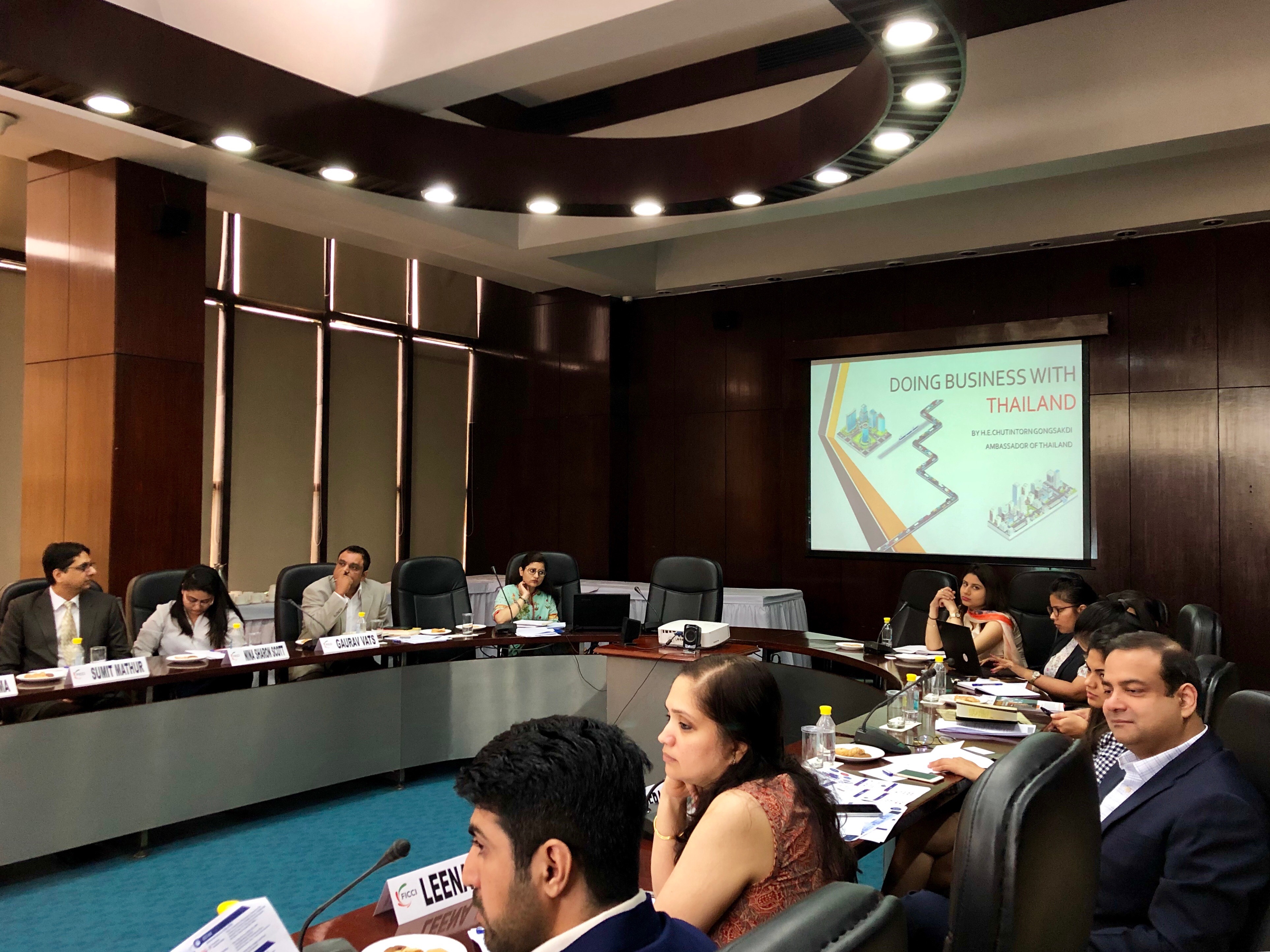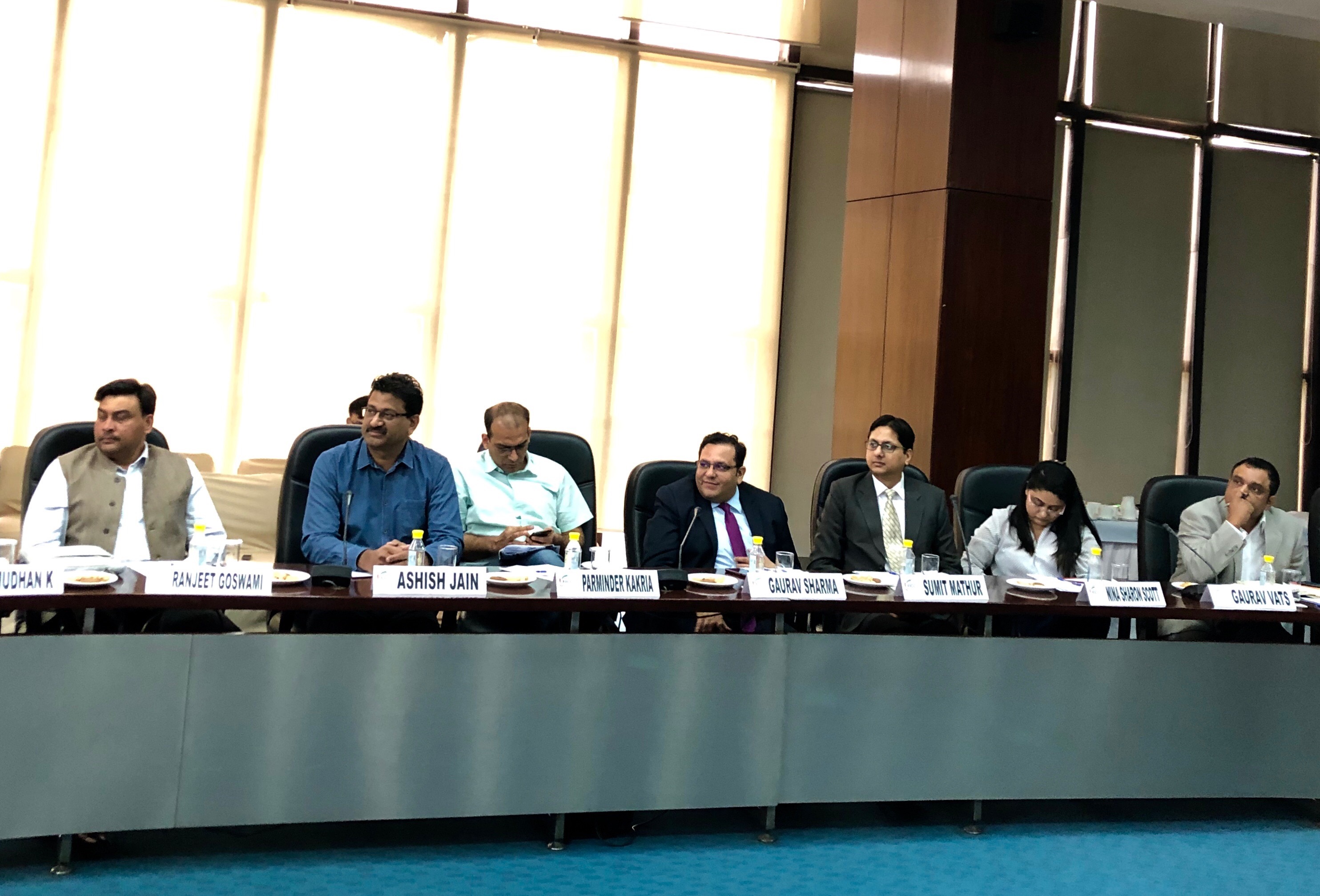 After the Special Talk by the Ambassador, a brief discussion session on the following topics were followed:
-India-Thailand relations: moving forward
-Developing long-term economic agenda-2030
-Strategic Partnership between India and Thailand at Multilateral Forums
-Connectivity (People to People, Business to Business)

Nikhil Sahni, Group President (Multinational Corporate Banking), YES Bank delivered the Vote of thanks.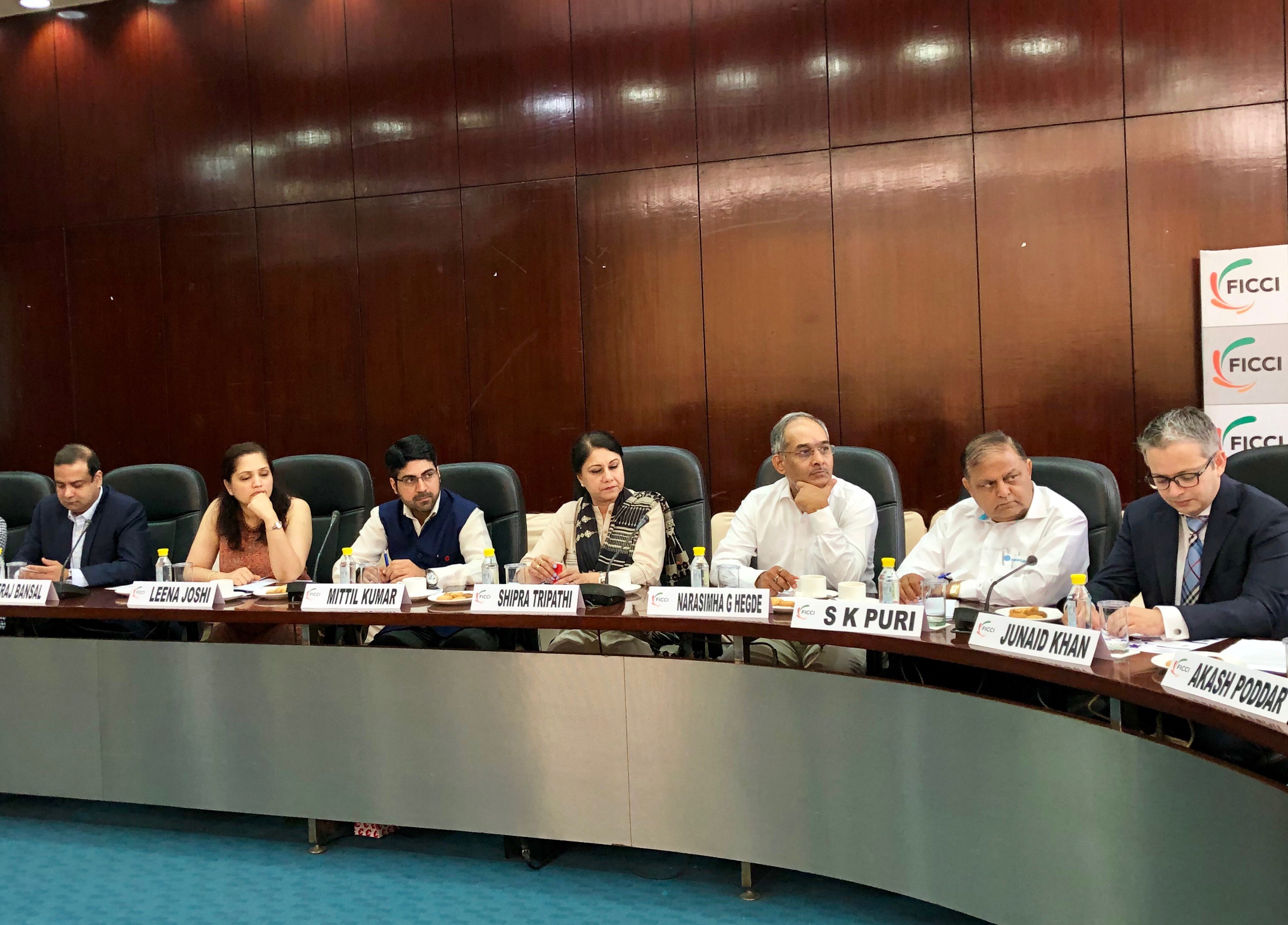 While "Make in India" is at the heart of the transformation of the Indian economy, "Make in Thailand by India" for India, ASEAN and the world, may also be an option for Indian business to achieve its growth at the regional level. The Royal Thai Embassy in New Delhi always stands ready to welcome Indian businesses to explore the potential of Thailand and ASEAN Community. Indeed, a prosperous and inclusive future for all within a "New India" and an ASEAN Community is within the reach of all of us.
Click here for full presentation.
Royal Thai Embassy,
New Delhi
13 May 2019